Hungry Joker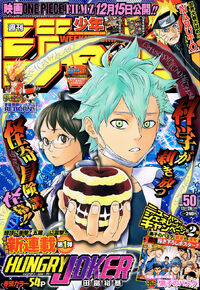 Information
Title:
Hungry Joker
Author:
Tabata Yuujo
Original Run:
November 15, 2012 - Ongoing
Published by:
Weekly Shōnen Jump
Genre:
Action, Comedy, Shounen, Supernatural
Hungry Joker is a manga series written and illustrated by Tabata Yuuki. 
One day, Haiji, a brilliant scientist, and his assistant, Chitose Toriiooji is called to resolve a mystery about a glowing corpse. From the will of an unknown power, the corpse then transforms into a monster. Haiji, having eaten a piece of a mysterious, regenerating black apple, gained the power to control gravity. Now Haiji must fight through these monsters and the people behind them in order to learn more about his past.
The first chapter premiered on Weekly Shōnen Jump on November 15, 2012 (50th issue), which is where the series has continued its serialization since then.
Labyrinth Of Mist Arc:
10. The Labyrinth Of Mist
11. A Woman Of Steel
12. Exploration in the Fog
13. The Truth of the Labyrinth
14. The Grandmother
15. An Unexpected Meeting
Chapters are referred to as "Cases."
References
Edit